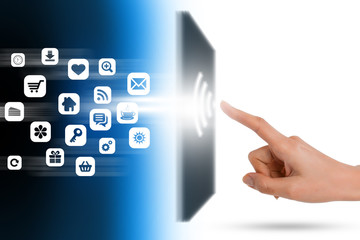 Make no mistake, building a website from scratch can be tough.
Outsourcing website creation can be pricey, too.
This is where website development platforms come in.
They are an ideal solution for growing businesses in particular.
Finding the best website builder, however, is not always the easiest task. With so many of these builders available online, how do you know which one is the best for you?
This is important to figure out – having your own website is a necessity nowadays.
Using a website builder can alleviate the pressure needing programming and design knowledge.
What Are Website Builders?
To best figure out what website builder you need, it is important to look at your goals and features you would like for your website.
Some examples to think about include photo galleries, storefronts, contact forms or blog sections.
Many website builders make use of a drag-and-drop interface. Having more complicated website set-ups will need quick and easy access to changing the source code of the site without manual input.
Many of them also offer a trial period so you can see how they work before you come to a final decision.
The ease of use of website builders depends on your skill level. If you're someone that finds using email online difficult, then you may need to hire someone to help you out.
If you're proficient with technology, then you can get into some of the more intricate features of these platforms.
Price is always a big factor to consider with every business decision. You may find a fantastic platform for your needs, but you could be completely out of your price range.
Budget accordingly considering how much you can spend. This saves you from getting caught up in a platform with great features, only to find out it is not possible to buy.
Depending on the level of professionalism you need, you may look into a website builder that can match your brand aesthetic. Something that can bring your website to life can make all of the difference.
The complexity of coding can be avoided with some of these website builders.
As mentioned before, if you have a little knowledge of coding or the technical aspects of site building, you'll want something more simple to handle.
Many builders are drag-and-drop in nature. This lets you move aspects of your site around without messing up the code of your site. This also makes it relatively easy to integrate pictures videos and more.
What Are The Pros and Cons Of Drag-and-Drop Website Builders?
Advantages
Drag-and-drop website builders allow you to instantly see how your website looks and is functioning. Altering the code is not a necessity in order to make modifications.
You can also have your website laid out exactly how you would like, rather than sticking to pre-designed templates.
Having a builder to create a website means you can have a point of contact and interest in your business online. Having an online presence is paramount in today's interconnected society.
The simplicity of the builders can also save you a lot of time arranging aspects of your site.
Although you can create a site without the need for a theme, you can still use them to get up and going fairly quickly. You can also extend their functionality with custom widgets provided by third parties.
Disadvantages
Using a builder that prioritizes default templates can cause the site to look cheap. There are also aspects of these that can limit search engine optimization.
Automated processes within some of these builders use flash as the building blocks of their functionality. Because of this, some of them will be unsuitable for e-commerce or Google analytics.
In some cases, you will not be able to create a site that has viable options for user interaction.
Because of the hosting of the sites, you may not be able to set the location that your business is in. If the builder you are looking at has limited functionality, you may be better off hiring a professional developer.
The Best Drag-and-Drop Website Development Options For Mac
In spite of its aesthetic appeal and security, software specialized for Mac is not perfect for building websites.
Having said that, some website builders on Mac perfectly create stunning websites. You will also save a lot of money and will get access to features that don't require specialist skills. This enables you to build websites that are professional on the fly.
Wix
Wix is the premium website builder for Mac users and can create full-featured websites with beautiful design.
The Wix platform enables the creation of many different types of sites for both personal and business use. It also offers great functionality right out of the box.
UKit
UKit is the most affordable and straightforward website builder available for Mac computers.
It allows you to create a variety of projects and is particularly suited to those that lack design skills or knowledge of the nuances of site building. It is cloud-based also.
Blocs
Blocks are good for promoting products or hosting a portfolio of past work. The drag-and-drop interface makes anything easy to handle and has a range of flexible options and extra tools.
Ucraft
Ucraft is specialized for entrepreneurs that want to launch a professional looking website. It is very well suited to presenting products, services, and offers plenty of tools.
It also comes with responsive templates and advanced custom options.
Finding the Best Website Development Platforms
Regardless of whether you're creating a website as your main place of online presence, or you want to build multiple websites, having the relevant design tools is important.
Looking at which website development platforms are right for you isn't always easy, but when you do find it, you can develop in-house websites quickly and easily.
See what your options are and weigh up what works best for your particular business.
For all of your hosting needs, contact Mac Highway to find the perfect plan for you.