As you've noticed by now, we've updated our look. It's the seventh major change to our web site since we started the company in 1997. I think it looks great, but we've also made changes that go far more than skin deep. The surface you see now better reflects who we are, and where we're going. Over the last nine months we've made some major improvements "under the hood" that you're already benefiting from, and coming in the next 60 days there are changes coming that will make the MacHighway services you already have even better:
1. Network Security
We've expanded our security team to further help us keep on top of the rapidly evolving security situation on the Internet. As a result of this we've recently completed a major update to our firewall systems and web server software ahead of schedule.
2. Email Security
To help keep our servers off of blacklists, we now scan all outgoing mail for Spam. Spam can originate from our servers in two ways usually: a user's infected computer (frequently a Windows machine – keep that virus software up-to-date, Windows users), or from an exploited out-of-date web application, such as an old version of WordPress (keep your website apps up to date). Scanning outgoing messages helps stop bad messages from going out, and that helps keep our servers off of blacklists, which in turn helps ensure your email works.
3. Expanded Network Architecture
We've radically expanded our network architecture, adding more redundancy and reliability: we've added name servers in Fremont, CA and Atlanta, GA, we've expanded our monitoring systems to 30 different locations worldwide, and most important of all, added hosting centers to Phoenix, AZ, and Lansing, MI…. and soon we'll be adding hosting centers to Amsterdam and Hong Kong, as well as additional name servers in Tokyo and London.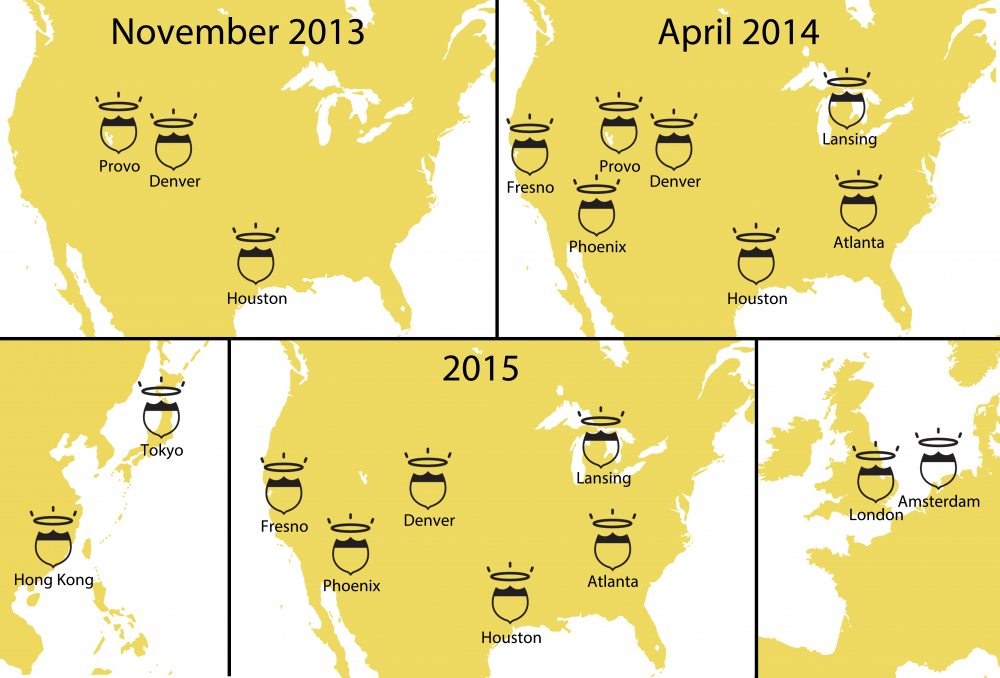 4. Upgraded Servers
Over the last several months, while we've been moving our servers to the new datacenters, we've been upgrading them as well. They have faster processors, more CPU cores, more RAM, and more importantly, we moved the most disk intensive processes to SSD's (Solid State Drives) with 10 times the performance. As of this writing, we've moved and upgraded 90% of our servers. These upgrades will continue for the next four to five weeks.>
5. CloudLinux
We now run our servers on CloudLinux. CloudLinux is an operating system designed for shared web hosting. It puts your site in its own "universe" with its own dedicated server resources. This helps keep the activities of other users from slowing down your site, and it helps further protect your site from the shenanigans of hackers.
6. Cloudflare
We've partnered with CloudFlare to provide you with a robust Content Delivery Network (CDN) for your website. CloudFlare is FREE for all MacHIghway web hosting customers. It is actually quite extraordinary, and you should be using it now. CloudFlare accelerates your website (by 200% or more), helps handle surges in traffic, and on top of what we're already doing to enhance security, Cloudflare helps to further protect your site from hackers. *** more on Cloudflare here
7. Free SEO Tools
To help you succeed, we now include a powerful set of free, easy to use Search Engine Optimization (SEO) tools with every MacHighway hosting account. These will help you drive more of the right visitors to your site. These SEO tools are provided free to you as part of MacHighway's partnership with Attracta, the world's largest SEO service. **** more on Attracta here So if you aren't using CloudFlare and Attracta already, jump on board and start using them. These free features are available right now, already included with your MacHighway account, so there's no reason not to use them. As for the other changes, most of you have already been enjoying the benefits, with the rest seeing them in the coming few weeks. We hope you find them valuable. Thanks for being a part of the MacHighway community.