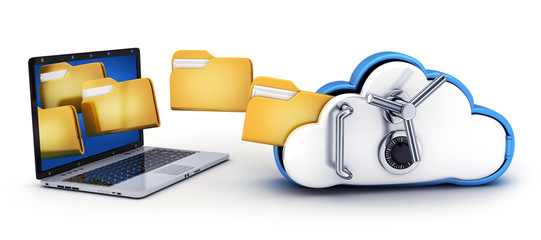 Computing has made work easier to do compared to when things were done manually before. Work that should ordinarily take a few days when it is was done manually can now be done within a few hours with more accuracy.
Mostly when working we work with data and information that are supplied to us, and usually, when working with data or information supplied, there has to be a way to keep those files somewhere. Hello, file storage.
Keeping these files could be for different reasons but most importantly, you want to store the file you worked on somewhere probably for future use or you might want to work on it again.
Storing Data and Information
There are so many reasons why you would want to store all the data and information you have.
For example, if you run a business or you have a blog platform you would want to store all your user's information somewhere safe. Otherwise, you would have to ask your users to supply that information again and this is obviously not good for your work.
There are many and different kinds of data and information that you might want a store files such as pictures, word document, videos, customer contact list, web pages and so on.
And as time goes on in the process of storing these files, chances are that you would at some point in time run out of memory space in your personal computer memory disk.
And this means that you have to get an additional memory space. Apart from this, another important reason why we all store our files is so that they can be safe, and also to guard them against being corrupted.
While will be discussing on how to use Mac hosting for file storage especially, hosting a website on a Mac system. We will also explore the different types of file storage method that is available out there especially with cloud storage.
What is Cloud Storage?
So as computer users we usually want to store one form of information or the other, sometimes we even invest our money in buying other types of storage devices such as external hard drive, compact disc and so on.
Sometimes we even have to delete files and folders on our personal computer just so that we will have enough space for new files and folders we want to collect.
Though there is a new trend which has been available for quite some time now and is growing rapidly.
I saw a movie where an upcoming boxer asked an already retired champ for exercise routines that he can do to help his biceps and legs. The retired champ said no problem, he got a pen and a paper, wrote some exercise routine down, then the up and coming new boxer brought out his phone and took a picture of them things the retired champ wrote down.
Then he returned the paper to the champ and left, the champ asked the upcoming boxer if he is not taking the paper with him and the upcoming coming boxer said, he should not worry that he has is on phone already and the champ said what if something happens to the phone the upcoming boxer said it's in the cloud already and the champ looked up and said to himself, what cloud? He was astounded.
How is This Relevant to Cloud Storage?
Well, cloud storage is all about saving data in an offsite storage facility that is usually maintained by a third-party. Some of these third-parties have free cloud storage system available but it is usually low but you can get more cloud storage space when you purchase it from trusted companies.
With this kind of storage system, you don't need any form of physical storage device that is common with the traditional storage system. You can get access to your files anywhere in the world so far there is an internet connection available. It is very convenient to use.
There are a lot of cloud storage systems out there with each cloud storage system provider having a specific need that they attend to. Some store information such as pictures, emails, and so on.
With these cloud storage systems, you can also share files with others and also update or synchronize all your data. And most of these cloud storage systems are also available for Mac users.
Are you thinking of how to get more storage on Mac? Here are some of the cloud storage options you can leverage on.
OneDrive
This is a cloud storage system from Microsoft, it has one of the best offers out there for customers. Here are some of the features that OneDrive has to offer.
You can easily synchronize your folders
It is suitable for collaboration for the team.
You can share your file links.
There are free plans available
Google Drive
Definitely, among the best and popular cloud storage, you can easily get. Google drive does surely have amazing offers as well and they are:
Good backup support for their customers.
You get 15GB free storage when you register.
You also enjoy Google Doc integration with all your Google account.
Excellent customer service.
Dropbox
One of the pioneering cloud storage systems, you can store easily store your files and also share it with other people. Features of Dropbox are:
A strong security protocol which lets you control who has access to your files.
Integrate easily with all the tools you are familiar with.
Huge support for team management files.
Share your files easily.
These are just a few out of the many cloud storage service providers out there. Other Examples are MEGA, sync.com, pCloud, Amazon drive and so on, click on this link for more.
Mac Hosting for File Storage
When it comes to website hosting, what is usually seen on the internet are Windows and Linux hosting plans. In fact, the majority of the result you will get online are from these two operating systems and you begin to wonder that if it is possible for Mac users to also use Mac computers for hosting.
Well, there has been a demand that Mac users should also be able to configure their Mac so as to enable Mac users to host website and web pages on a Mac personal computer thereby turning it to a server.
The good news is that there are now some Mac web hosting services that specialize in providing a web server that is running on the OS X or iOS operating system.
If you are new to web hosting and the way it works, it is important to note that no matter the operating system of your website, your website will still work perfectly when it is hosted on an OS X or iOS web server.
Mac Hosting Server
The Mac hosting server is built around the Darwin kernel, one of the main reasons why it is important to use a Mac hosting option is because there are some specific software applications that can only work well on the OS X platform, obviously, some of this software is built for the Mac users only.
This also makes it easier for you to integrate this OS X based software application with iCloud.
So, if what you do is mainly designing and building stuff that ate Apple-inclined only, that means you definitely need to get a Mac Hosting services. And thank goodness, you need not worry about where or how to get it again.
After reading this article you will be armed with the useful information you need to have your Apple OS X application hosted. There are now Mac hosting service providers that provide a remote hosting computing environment. Which invariably means that you can simultaneously, host your server and be running it remotely.
Now that you know that you can now also get a Mac hosting service, there are some things you should look for when choosing a Mac hosting service provider, and below are some of the Mac hosting features to look out for:
Automatic Apple OS X Testing
Getting your Mac environment ready for hosting is not the same as running your application by assembling the hardware you intend to use. Therefore, to test your application automatically on an OS X operating system, it is better to rent a remote server as it is cost effective compared to buying the different types of hardware.
Remote Rendering
With remote rendering, you can easily render files with different computers with a high-power remote Mac computer. Each of these computers renders your file, for example, it could be a music file and the rendering is done, the end result can now be transferred back locally.
This is very nice as it helps to enhance workflow and also improve team related project. Although it is advised that you first spell out the goal you want to achieve before getting a web Mac host services because remote rendering is not usually used for an enterprise related website.
Email Hosting Services
Well, this is a general requirement that is required of most web hosting services. Which means that with Mac hosting, you should definitely get an Email service from the Mac hosting service provider you decide to opt for.
Security
This is one of the most important features when hosting a website, it is so crucial because of the rate at which hacker attack the data and information that are stored.
Your Mac hosting service provider should be able to protect all your file storage system and also guarantee you of continuous security benefits and backup.
Excellent Customer Service
At one point or the other, you might have some issues with your Mac hosting services and you do not want to be stranded neither do you want your online activities to be affected.
Therefore, your Mac hosting service provider should be able to provide support whenever it is needed at any given time
How to Step up Your File Storage by Using Mac Hosting
Setting up your Mac to host your website is easy and straight forward, you can do it yourself. Just follow these simple steps.
Step 1: Download MAMP (MyApache, MySQL, PHP)
You need to download a web server host on your Mac. Download MAMP (MyApache, MySQL, PHP) on your Mac personal computer.
Step 2: Install MAMP
After you have finished downloading MAMP, you can now install it your Mac but while installing it ensure that you are installing the free version by clicking on "customize" and then uncheck the place where you see MAMP Pro.
Step 3: Relocation of Virtual Host
Once you have successfully installed MAMP on your PC, relocate the location of your virtual host to this file directory: "/Applications/MAMP/htdocs".
Step 4: Select MAMP as Default Web Server
After you have successfully relocated your virtual host, in the general settings section ensure that you proceed VirtualHostX preferences and select MAMP as your default web server.
Step 5: Set Up Wizard
Proceed to VirtualHostX menu and in the menu, locate VirtualHostX setup and run it.
Step 6:
Ensure that you click on "Apply Changes" to save your settings
Step 7:
You can now proceed to launch MAMP.
What's Next?
To answer the question above, it really is up to you. You have all the information you need to start working. That important file you are thinking of deleting because you want to create more space needs not to be deleted anymore.
With the myriad of cloud storage system available, you can now store your files in a trusted cloud storage system knowing that you can access those files anytime you need them, no need for you to continue carrying those physical storage devices around with you anymore.
If you did not know how to set up your Mac file storage system before for web hosting, you now have the information you need. I guess you are saying, well it's not as difficult as I thought it would be after all.
So, what are you waiting for? It's time to get to work, Contact us for your web hosting solution.